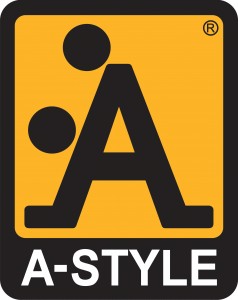 This is the logo for A-Style, an Italian clothing company with what you might call a flair for entering the back door of the marketplace. Usually you form a company and then design a logo that conveys the essence of what the company is about. In this case, however, it seems that the company's entire existence is basically due to its, uh, interesting logo.
I first spotted the logo as it was plastered all over the racetrack during a recent motorcycle race in Spain. I started digging and didn't find much info (in English, at least)  but I did figure out that the company is only about two years old and growing quickly.
According to Wikipedia (translated from Italian, by Googlebot), the company sells:
Shoes and clothing
Motorcycle helmets
A-Style Beer (which may or may not contain cannabis… the translation is pretty bad)
Apparently the company's marketing tactics have included spray-painting the doggie style-loving logo all over Italy, and it's recently been seen in Russia, Japan and China. We can only assume that Silvio Berlusconi inspired this, much like Jerry West is the body in the NBA logo.
You can check out their website here. I'll warn you, though, its sheer Euro-trashiness will make you want to stab yourself in the face.