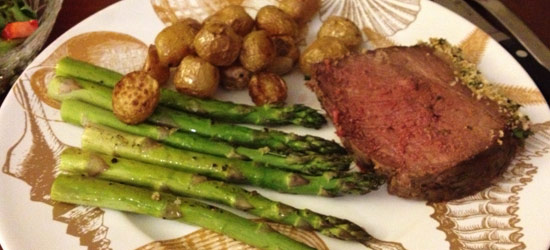 Last Wednesday, my in-laws were in town and my mother-in-law volunteered to make this recipe she had recently seen in the newspaper. It was so nice not to have to worry about feeding my guests for dinner, and it turns out that this easy-to-make recipe is also incredibly delicious. I can't wait to try the mustard-panko crust on a pork tenderloin or chicken drumsticks. Recipe courtesy of Publix Aprons™ Simple Meals.
Ingredients
1 standing rib roast (4 – 5 lbs)

1/2 tablespoon kosher salt

1 1/2 teaspoon fresh ground pepper

2 garlic cloves, minced

1 1/2 tablespoons fresh Italian (flat-leafed) parsley, coarsley chopped

1/3 cup seasoned

panko 

breadcrumbs

1 teaspoon dried rosemary

2 tablespoons Dijon mustard
Preparation
Preheat oven to 325 degrees F. Season meat with garlic, salt and pepper. Place meat in roasting pan, and bake for 1 1/2 hours. Combine parsley, rosemary, and breadcrumbs. Remove meat from the oven, coat with Dijon mustard, and cover with breadcrumb mix. Return to oven and bake for approximately 1 more hour, or when meat thermometer reads 145 degrees F for medium rare. Transfer roast to cutting board, tent with foil, and let stand for 10 minutes before slicing. Serve with roasted potatoes and asparagus.