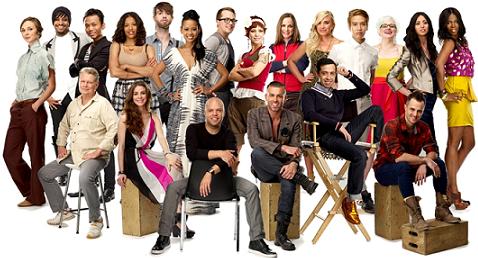 Hello Kittens and welcome back for another season of Project Runway. Season nine, is it? Let's do a quick shot of sambuca to wash out the bad taste from last year's alleged winner, Wretchen, and get on with the show.
First order of business is Seth Aaron Anderson as one of the screeners. He seemed to be at almost every interview. Does he not have a job? Don't you want him, baby? With his aging lesbian super-severe hairdo and bauhaus t-shirt, he was like some crazy mix of Philip Oakey, Rosie O'Donnell and Francesca Fiore. I'm sure this is a "look" somewhere on the planet, but where that is, I don't know.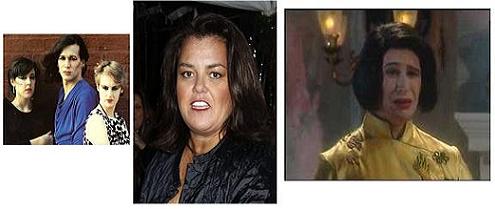 We were introduced to twenty sewtestants. You know when they have a big number of competitors at the beginning that there's going to be some thinning of the herd, don't you? Yes, you do. Here's a quick listing of the people we were subjected to in the one-hour run-up to the rodeo.
Amanda Perna — voice like a hot needle, gna gna gna gna. She's a big girly girly girl, isn't she? She might have competitive issues, as in she folds under pressure like tissue paper on Christmas morning.
Anthony Ryan Auld — did you know he had testicular cancer? I instantly gave him the name "uniball." Also, did you know he is color blind. Did you? Well, if you didn't pick up on that, you will. In case you forget he will remind you of these facts throughout the season. Also, in his home video, he's working the fishing lures feather jewelry trend. He is precariously balanced on top of his one-ball game.
Anya Ayoung-Chee is this year's Uli, except one of her skirts looked like it was made out of curtain fabric from 1963. Agh. Not purty. Anya says that if she doesn't make it as a designer, she is going to be a junior oncologist. She and uniball need to get together, stat.
Becky Ross a/k/a Betsy Ross a/k/a Blecky, the white haired geriatric single gal, refers to herself as the perfect bubbly blonde / fashionista. Oh Blecky. And, she was raised in a cult. Watch for PTSD episodes from this one.
Bert Keeter is a recovering alcoholic, will he be a dry drunk? That could add some fun to this season. Bert graduated Parsons in 1977 and went to work with Halston and other fabulous late 70's people. Then his friends and his partner died from the AIDS and he fell into the bottle. His is a redemption story. Also, Bert wins the award for being the first one to say "I'm not here to make friends." What other reality TV cliches will he spout?
Bryce Black is a Mormon from Idaho who says being gay is the weird part of his history. (Really? Nothing about the magic underwear?) He's big into convertible clothes. This did not work well for Merlin over on the failed replacement for Project Runway on Bravo (The Fashion Show) now did it? Precarious position to be in. Bryce let us know that he used to put toilet paper on Barbie dolls as a child. Let's hope the producers don't confiscate his meds.
Cecilia Motwani literally talked like a crazy person when she brought her clothes in at the audition. She claims she will fight with her spirit until the last drop of blood. Does she think the elimination challenge involves weapons?
Danielle Everine seems grounded and is a big reader but won't look at the camera. She has a lot of ideas and concepts and is probably the most serious of this season's contestants. Let's see if she stays calm and cool or if she flips her wig.
David Chum is the token Gaysian and is a bitchy kitty waiter who has lots of fortune cookie fortune strips around his work space. A little kooky.
Fallene Wells kinda looks like Carol Burnett, doesn't she? Fallene leans a lot on 1920s and 1940s — most likely to say "Old Hollywood Glamour" in every challenge.
Gunnar Deatherage is 21 years young and looka tha beard and hairdo with gray patches. Why so gray so early in life, hon? Also, the front of his hair is like Seth Aaron's. Is this his attempt to mirror one of the judges in the audition process?
Joshua Christensen brings a male model to the audition wearing some kinda white shirt with sort of avant garde nonsense collar. Of course Nick Verreos immediately demands that the shirt be given to him. Oh no, another Mormon, except this one claims he's straight. He also mentions that he has a "special interest in women's clothing" — what could this be? I suspect a pit and a basket and some lotion are involved.
Joshua McKinley, another freaking menswear designer and avowed stubblehead. Joshua M looks like he's going to bring some slutwear to the party, including his "oh no, it's got a sheer back" clubwear at the audition, which he puts on for the judges. Interesting move to take off his clothes and show off his bod. He's kinda manic at times and gives off a "Doctor Evil" vibe.
Julie Tierney is going to be the ruler of The Planet Of Crazy Mismatched Patterns And Fabrics. Wait for her to spit on her fabric during a challenge. Say no more.
Kimberly Goldson likes her shiny shiny and her cut outs. Too bad Michael Kors was not in the initial audition panel because For Sure we would have heard "slutty slutty slutty," as she was showing lots of skin on top and very short skirts.
Laura Kathleen defines herself as the "privileged party girl" and says she rocks the glammy. Favorite phrase? "and da da da." We are all going to make voodoo dolls in her image.
Olivier Green is yet another menswear designer. He just came to new york, has an interesting accent, a bad dye job, makes anime sketches, and lived in London and Paris. Lots of flash, no idea what his personality is like. The Riddler.
Rafael Cox is the love child of Nick Verreos and last season's Casanova. Why does Rafael have shoulder pads on the outside of the shirt in the interview? I have given him the nickname "hey ya."
Serena da Conceicao designs for Beyonce's "Miss Tina" line and brought sexy "get laid lingerie" as outerwear. Interesting choice. Is it 1990 again? She plans on releasing a single "Made It Work" with her band, "Yum Yum Tim Gunn." I dislike her because she thought of this before I did.
Viktor Luna either has conjunctivitis or is constantly smoking the dank herb. Red eyes for days. Viktor says that he "knows he is fearssssssss." OK, honey bun, you work with that. Sure likes the spikes, doesn't he. He is mister "Hi I'm from 1982."
And there you have our sewtestants. On with the show!
Image credits:
Seth Aaron Anderson collage:
Season 9 Designers: