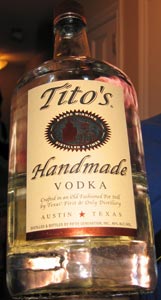 I admit it, I'm a vodka snob. Not because I have such discerning tastes, but because I hate a hangover, and I like to drink a lot of vodka. Nothing better to me than a (or some) nice, crisp, straight up, vodka martini just a little dry. Must have three olives, an even amount is bad luck, you know. (Learned that one from an old time bartender friend, who served them when it was still okay to have martini working lunches.)
To me, the vodka cannot taste too starchy or sting like rubbing alcohol when it touches my lips. Obviously, as a martini drinker, I like a vodka that I can drink straight. I find the starchier and less smooth the vodka, the greater the hangover.
The vodka market has grown exponentially over the past ten years. You have flavored vodkas, celebrity backed brands, potato, wheat, soy (do NOT recommend, a ticket to the cha cha express, if you ask me) and corn based vodkas. I have learned over the years that good vodkas do come at a higher price point, but they don't always have to. And that's where Tito's Vodka comes in.
I didn't expect much. The bottle isn't pretty (Grey Goose) or cool (Dan Akryoyd's Crystal Head Vodka) and it's cheap, real cheap. Priced in my area for about 14 bucks for a 750ML bottle, but you can find it anywhere from $12-$20 around the country. I thought of Pinnacle vodka, which just the mere mention of its name brings vom chunks into my mouth. However, I was hearing about it from the cool kids in town who spoke of it with a cult like reverence. So, who am I to not drink the Kool-Aid flavored booze?
My first test was to do a chilled shot. And I was blown away. As smooth as my favorite, Kettle One, yet it had a slightly sweet, yet not off putting or cloying finish. As a martini, of course it was excellent. A great sipping vodka. I found it refreshing and ridiculously smooth. Its aroma is not overpowering. It actually has character, which can be missing from so many brands. One thought came to my mind while enjoying my Tito's martini, BALLSY. As in, "oh hell yeah, I'm going there, I can kick any European vodka's ass any time of the day!" I will say, it's not a great mixing vodka. If you enjoy a Cape Cod, you will find it does compete with the cranberry. However, it does just fine with soda and I'm told tonic. This is truly a vodka drinkers vodka.
Tito's Vodka is produced in Austin, Texas in its first legal distillery in Texas, opened by Bert Butler "Tito" Beveridge II in 1997. The distillery, Mockingbird Distillery produced just 1,000 cases that first year.
It is microdistilled in just ten old-fashioned pot stills, distilled six times and made from yellow corn, instead of potatoes or wheat. The corn is what gives it it's mildly sweet aftertaste.
In 2001 Tito's won the Double Gold Medal for vodka at the San Francisco World Spirits Competition, beating out 71 of its high-priced competitors and received a four-star ranking from Spirit Journal. In 2007 it won four stars again in the 2007 edition. Not bad for a little guy. Tito's is distributed coast-to-coast across North America and Canada.
Overall I highly recommend this vodka. If you enjoy a superior vodka at an excellent price, and on top of it like a good David and Golith story, this vodka is for you.
Crass Product Rating: A+
Photo: Flickr