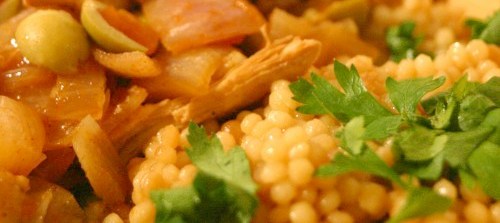 (Originally published on Let My People Grow)
People who enjoy a really good starch need to thank David Ben-Gurion, Israel's first prime minister. During the austerity period in Israel after the War of independence, there was a shortage of rice which many of the new immigrants to Israel relied on for their diet. Ben-Gurion knew that the immigrants would need something to replace rice, and he asked the Osem food company in Israel to come up with an inexpensive, wheat-based substitute.
That substitute became known as Ben-Gurion Rice or ptitim. In the U.S., we call it pearl couscous or Israeli couscous.
It's my favorite pasta that mimics a grain.
Israeli couscous is shaped in little balls which are creamy and firm at the same time. It's similar to the Italian pasta, orzo but (to me) the couscous is more elegant and distinctive. And although it shares the name and the main ingredient (wheat) with the similarly named Moroccan couscous, the two vary wildly in texture and size. Moroccan couscous is very tiny, and looks like grains of sand. Israeli couscous on the other hand is much larger and looks like tiny little marbles.
And in this Moroccan dish, the Israeli couscous really stands out as a star.
Thank you, Mr. Ben-Gurion.
Moroccan Chicken with Israeli Couscous (Based on Mark Bittman's recipe)
Olive oil
1 cup flour for dredging
4 thin chicken breasts or thighs
1 large chopped onion
1 inch of grated or diced ginger
3 teaspoons of cumin (divided)
3 teaspoons hot Hungarian paprika (divided)
3 teaspoons of cayenne (divided)
½ teaspoon cinnamon
2 cups chicken stock or vegetable stock
1 cup sliced green olives
1 tablespoon of lemon juice
Parsley or cilantro to garnish
Cover the bottom of a large frying pan with olive oil. Combine the flour with 1 teaspoon each of the cumin, paprika and cayenne. Dredge the chicken in the flour, and when the olive oil is hot but not smoking add the chicken. Cook the chicken approximately 6-7 minutes each side until fully cooked and browned. Remove the chicken from the frying pan, and let drain on paper towels. Add the onion, ginger and spices. Saute until the onion is tender, and then add the broth, olives and lemon juice. Chop the chicken into bite sized pieces and add them to the sauce. Let the sauce reduce on low while you make the couscous.
Israeli Couscous
1 tablespoon of olive oil or butter
1 cup of couscous
2 ¼ cups of chicken broth, vegetable broth or water
Heat the olive oil or butter. Add the couscous and saute until lightly browned, about 2 minutes. Add the broth and bring to a boil. Reduce heat to a slow boil and cover the couscous. Stir every few minutes until the broth or water is absorbed. (Approximately 8 minutes.)
Serve the chicken and sauce over the couscous with parsley or cilantro.