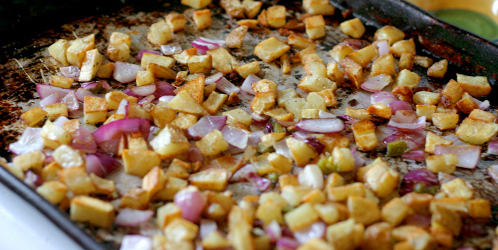 Although New Year's Day is a couple rotations of the earth away, it's never too early to start contemplating what to feed stay-over guests in the morning. And this is one of my favorite breakfast foods. It's simple, filling, spicy and cheesy.
And it's served me admirably on a number of New Year's Day mornings – both when the house was overflowing with guests and when it was just two of us huddled around the warm glow of a DVD marathon to greet the brand new year on a groggy morning.
However, even though these are home fries, they aren't very greasy at all. So, if you need a grease fix as a hangover cure, this recipe isn't for you.
If, on the other hand, you want something that you can roll out of bed and make in 35-45 minutes with very little hands on time, that everyone will rave over – this recipe is for you.
I call these "home fries three ways" because they're great plain, with melted cheese or with melted cheese and salsa. And all three ways prove that you don't need excessive grease to make a hangover cure worthy of Brendan Behan, Winston Churchill, W.C. Fields or your cousin Bob.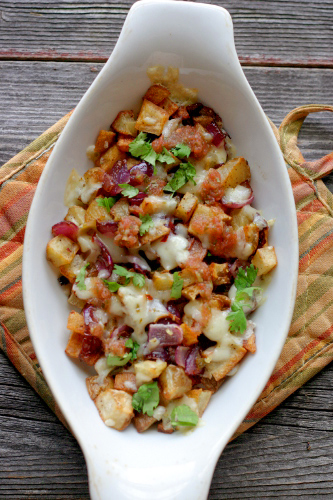 Home Fries Three Ways
Serves 2-4 people, can easily be doubled or tripled.
Ingredients:
4 medium russet potatoes, well scrubbed
2 tablespoons of olive oil
Salt and pepper
1 red onion, diced
¼ cup of pickled jalapenos
Optional:
Pepperjack cheese, shredded or cubed
¼ cup of salsa
Cilantro
Instructions:
Preheat oven to 375 degrees.
Dice the jalapenos and let drain on paper towels. (Believe it or not, they contain a lot of moisture, so you want them to be as dry as possible when you add them to the pan.) Then, dice the potatoes so each piece is roughly the same size.
On a large rimmed cookie sheet toss the potatoes with the olive oil, salt and pepper. Bake for 15 minutes. Using a metal spatula, flip the potatoes. (The potatoes should come up without sticking to the pan. If they stick to the pan and come apart, let them a cook a couple of minutes longer and try it again.) Add the onion and jalapenos. Toss well with the potatoes. Add another tablespoon of olive oil if it seems that the potatoes have absorbed most of the initial oil. Cook for 10-15 minutes or until the onions are soft and all of the potatoes are brown.
Home Fries with Melted Cheese
Remove the home fries from the pan, and put onto an ovenproof plate or large ramekin. Place the cheese on top and bake for 10 minutes. The cheese should be melted, but not browned. This is actually one of the few times when you don't want browned cheese – it's nice to have the contrast of the crispy potatoes and gooey cheese.
(Photos by Launie K.)