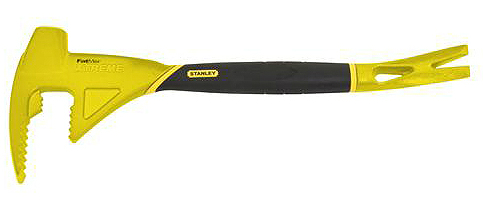 It's a well known fact that manliness is currently in inexorable decline. I blame the fact that no one works with their hands anymore (other than manipulating a video game controller). And when something breaks? We hire someone to fix it for us, or more likely, just throw it out and go buy a new one at Target.
But it doesn't have to be that way. Tools are awesome, and once you own them you'll start looking for reasons to use them. That's why I put together a gift guide featuring 10 great gifts for the handy man (or woman) in your life. 
1. Bosch DLR130K Digital Distance Measurer Kit
The tape measure is one of the most basic tools in every toolkit, but nowadays we use lasers and shit. This digital measurer is great for taking ultra-fast measurements. Like I said… LASERS.
2. DeWalt DC970K-2 18-Volt Drill/Driver Kit
Ask just about any contractor and he'll tell you that it's hard to go wrong with DeWalt drills. Their stuff is ultra-durable, lightweight and they come with batteries that last forever. The DC970-K is a smokin' deal on an 18-volt drill. This the ultimate do-it-all tool for the amateur who needs to fix stuff around the house but doesn't want or need one of the more expensive models designed for the pros.
3. McGuire-Nicholas 16 in. Universal Tool Tote
Carrying tools around is a major pain. Big toolboxes are heavy and inconvenient when moving around, so that's where an open-topped tote like this one from McGuire-Nicholas comes in handy. It holds everything you need for most jobs so you can grab only the tools you need and bring them with you to wherever you're working. This is the only time it's ever acceptable for manly men to use the word "tote."
4. TEKTON 2547 T-Handle Hex Key Wrench Set
I bought a set of these last year and they quickly became my absolute favorite tools. They're so much better than the little allen wrench keys most people have. They make removing allen fasteners so much quicker, and the colored handles make it easy to find the size you need. Much recommended for anyone who works on cars, motorcycles, boats, etc. Don't forget to buy the right set: Metric is for any Asian or European car, while SAE is for American vehicles.
5. Stanley 92-824 Black Chrome and Laser Etched 69-Piece Socket Set
The socket set is the most versatile of all tools. A good ratchet driver is maybe the most important tool in the world, as it can be combined with extenders and various sockets to do just about anything. This set from Stanley has a cool black chrome finish to it. I would torque the hell out of some shit with these things.
6. JS Products 92230 Snap-on LED Swivel Light
As a kid my dad considered me his assistant and he was always telling me how to hold the flashlight so he could see what he was working on. If only I had this badass utility light. It contains 30 LEDs to light up any job and it swivels all the way around. Plus it has a magnetic base and hook for hands-free operation.
7. Accutire MS-48B Digital Combination Tire Thread Depth Gauge and Tire Pressure Gauge
Taking care of your tires is the absolute best way to take care of your car. Tire pressure that's too low causes your tires to heat up to a higher temperature and wear out faster (as well as hurt your car's mpg). Overinflated tires reduce traction and are seriously dangerous if you ever need to brake or corner in an emergency. This handy guage not only makes measuring you tire pressure easier than ever, but I love the handy tire thread depth gauge as well.
8. Streamlight 61052 Septor LED Headlamp with Strap
Headlamps have been around for a while now. They're handy for all sorts of applications — especially home repair, car repair and camping. This model features great straps, a sturdy construction and a massive amount of illumination.
9. Klein Tools 85078 Cushion-Grip Screwdriver Set, 8-Piece
It doesn't get much better than Klein. These are just about the best screwdrivers you can buy and tons of professional contractors swear by them. Growing up, my dad always had these lying around and he still has the exact same ones to this day. These are tools that last decades.
10. Stanley 55-099 FatMax Xtreme Fubar Functional Utility Bar
Did you really think I wouldn't put this one on the list? Last year I bought the FatMax as a gift for my old man. He immediately loved it. But then we found ourselves in the middle of a major demolition job. The FatMax demolished everything with impunity. I could feel the wood screaming out in terror. It was a good day.