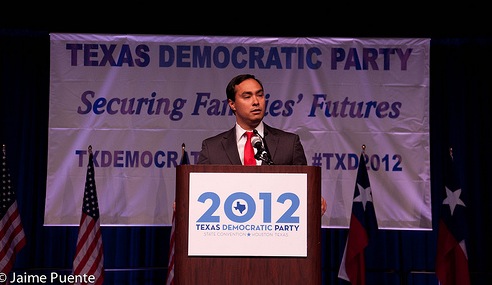 In San Antonio there has been a buzz about the Castro brothers for quite some time. The buzz is about to increase across the country with the announcement that Julian Castro will be the first Latino keynote speaker at the 2012 Democratic National Convention in Charlotte, NC on September 4th.
Julian Castro, the youngest mayor of a top 50 American city, is the mayor of San Antonio and Joaquin Castro is a representative of the Texas House of Representatives, representing District 125. The identical twin brothers are so similar, not only physically, but in personality and philosophy, they could be the same person. Julian and Joaquin, who is a minute younger, were born out of wedlock to Rosie Castro and Jesse Guzman on September 16, 1974. The twins were exposed to politics since birth.
Rosie, a working class single mother will be a Republican opponent's dream come true.  In the 70's, Rosie Castro was one of the leaders of the radical civil rights movement in Texas, "La Raza Unida." The movement was dedicated to defending the civil rights of Mexican-Americans and promoting a strong "Chicano" identity.
Their father Jessie Guzman, was a community organizer turned teacher. The couple split when the twins were eight years old. Though they accompanied their mother to political events and strategy sessions that exposed them to their mother's grass roots radicalism, neither were interested at first in pursuing a political career. However, both were raised to make the system work for them and to be leaders in the world.
Both went to Thomas Jefferson High School, played on the tennis team and skipped the tenth grade. They both entered Stanford University in hopes one day having a career in broadcasting and earned a Bachelor of Arts degree in political science and communications. It is then that they started thinking about careers in politics. Julian was an intern at the White House when they both were accepted into Harvard Law School after Joaquin was not accepted into Yale. They graduated in 1996.
While in their last year at Harvard, Julian decided to run for the city council seat after graduation. In 2001 Joaquin was elected to the Texas State House of Representatives. Julian's first fund raiser was among fellow students in Cambridge. During that time, they also worked at a branch of Akin Gump Strauss Hauer & Feld, a law firm with offices around the world. Then later, together, they started their own practice. Thanks to a personal-injury case for victims of a fatal drunk-driving accident earned them enough money to comfortably continue their political careers. Thus began the rise up the San Antonio Democratic ladder.
The Castro brothers share not only the same education history, but political philosophies as well. They both strive to create greater access and affordability to higher education and believe in affirmative action. Joaquin has established The Café College, which is a one-stop center to help students prepare for college. In a 2010 NY Times lengthy profile, Julian says "Joaquín and I got into Stanford because of affirmative action," Julián says. "I scored 1,210 on my SATs, which was lower than the median matriculating student. But I did fine in college and in law school. So did Joaquín. I'm a strong supporter of affirmative action because I've seen it work in my own life."
Despite growing up in a politically radical environment, both have shown to be more moderate centrists. Julian supports free trade including the North American Free Trade Agreement, advocates an energy policy that includes fossil fuels and he has said that David Souter is the ideal Supreme Court Justice. They were raised Roman Catholic but are pro-choice and Julian was the first mayor to be grand marshal in the annual gay rights parade. He says "We disagree on this, the Pope and I."
The twins have a quiet confidence and have been described as "cerebral, serious, self- contained and highly efficient" Many believe that Julian could be the next Barack Obama and a possible favorite to fill the leadership role in the coming years. Joaquin agrees, stating "I can see a path to Washington for Julian." In fact Julian has been on Washington's radar for quite some time. Julian Castro attended Obama's National Jobs and Economic Growth Forum. When he rose to speak, Obama, joked "I thought he was on our staff. I thought he was an intern. This guy's a mayor?"
"Of San Antonio, Texas." He answered unruffled.
"I'm messing with you," he said. "I know who you are." Obama teased.
Julian remained unflustered and polished, which is typical for both brothers.
Asked, if not in politics what would each like to be doing. Joaquin answered that he would pursue something in the creative arts, likely writing or theater. Julian says he has aspirations of becoming an author some- day. But for now, both are proving to be more that barrio candidates but men on the path to political greatness. The NY Times has dubbed Julian "The Post-Hispanic Hispanic Politician" and the great Hispanic hope. In 2011 he was reelected as mayor with 82% of the vote. Joaquin won the seat in the US House of Representatives District 20 with 100% of the vote.  However, neither will speak of greater positions.
On Thursday, September 4th, Julian will join the stage along with the First Lady on the first night of the convention. In a video released along with the announcement, Julian praised Obama's economic record, pays tribute to his health care reforms and condemned Romney for opposing the bailout of the auto industry. He ends with "estamos unidos", " we are united." A sentiment that is needed in American politics today. Could the Castro brothers be the guys to unite America? Stay tuned, there is much more to come.
Sources: NY Times, Daily Beast, NPR, Nside SA
Image via Jamie Puente on Flickr.