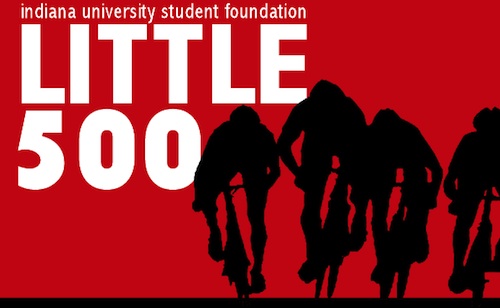 "I've attended Super Bowls, World Series', and the Monaco Grand Prix, but the coolest event I ever attended was the Little 500." – Lance Armstrong –
The official description of the Little 500 is that it is an intramural relay-style bicycle race held annually at Indiana University, in which riders compete in teams of four and ride for 200 laps, or approximately 50 miles.
However, as any Indiana alumnus can tell you, the Little 500 is so, so much more than that.
First off, let's get something straight: the Little 500 (or Little 5) isn't just a bicycle race. Little 5 itself may be a bicycle race, but Little 5 has become a weeklong celebration of the arrival of spring and the last big party before Finals and the end of the school year.
Little 5 isn't so much a weeklong party, as it is a bacchanalian celebration of everything college. Alcohol is consumed in copious quantities from dawn to dusk and beyond. Hook ups are frequent, and frequently drunk. The parties are bigger. The concerts are better (DMX once performed on my house's front lawn and started a riot. Ludacris, Lil' Wayne, Nicki Minaj, DJ Tiesto, Afrojack, Gucci Mane, The Flaming Lips, Feist, Red Hot Chili Peppers, Foo Fighters, Nelly, O.A.R., Yellowcard, Three 6 Mafia, Flight of the Conchords, John Mellencamp, No Doubt, Smashing Pumpkins, and the Jackson 5 have all played Little 5). And the energy is infectious, as an event fueled almost entirely by the mass consumption of alcohol by college students should be.
I have a lot of favorite memories from Little 5 during my time at IU. My junior year I was fortunate to turn 21 about a month before the race, so I was still in that "I can legally drink now, so I'm going to drink ALL OF THE ALCOHOL" phase. I don't think I was sober that entire week. Every week always features theme parties, which were really just excuses for everyone to get dressed up (or down, in the case of highlighter and beach-themed parties) and very, very drunk. The day of the race, we would always get up really early, cook some breakfast, and start drinking. We called it Kegs And Eggs. On a related note: beer does not go well with eggs. Bacon, yes. Eggs, no. My particular fraternity had a very long sidewalk leading from the house to the street that we would paint every year with our letters, our sorority pair's letter, and the names of the team members, as well as whatever that year's "theme" was for the week. It's hard to really describe what Little 500 week is, except to say that three of my five drunkest moments came during Little 500 week.
Of course, no discussion of the Little 500 would be complete without discussing the seminal coming of age film Breaking Away.
Set against the backdrop of Bloomington, Indiana, the home of Indiana University, Breaking Away tells the story of four Bloomington locals who form a bike team, The Cutters (named after the stone cutters who used to work in the limestone quarries in southern Indiana, and also a term for locals used by students), and enter the Little 500, taking on the top ranked fraternity team.
Ironically enough, Breaking Away was based on a real life Little 500 team, the 1962 Phi Kappa Psi team, which featured famous cyclist Dave Blase.
Following the release of Breaking Away, a real-life Cutters team was formed, which still uses the same simple jerseys of the Cutters from the movie. They are traditionally either Bloomington locals or at the very least non-Greek, and have been tremendously successful, winning multiple races.
Another unique aspect to the Little 500 is, thanks to IU Alumnus Mark Cuban, it has been broadcast every year since 2002 in HD on HDNet, making it unique among collegiate intramural sporting events.
The Little 500 is a touchstone for all Indiana alumni. I remember my first post-college Little 500. I went to an Indiana bar not far from my apartment in Chicago, which was serving Bloomington specialty drinks at college bar prices, as well as showing the race in HD. I went, not knowing anyone, and found myself surrounded by fellow alumni, especially fellow Greeks. Within fifteen minutes, I was knocking back shots with a group of fellow Greek men and women and was suitably drunk by the time the end of the race.
So, if you ever find yourself in southern Indiana, around the end of April, do yourself a favor to pop down to Bloomington, Indiana and see the Little 500. I guarantee it's an experience you won't forget.
And, because I can't write something without posting a YouTube video about it…