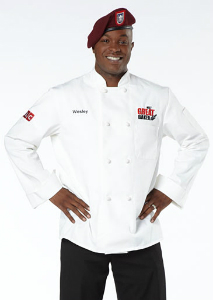 Many fans of TLC's competition show The Next Great Baker got a shock last night after contestant Wesley Durden was eliminated from competition. The reason? TLC included an in memoriam note for Durden, who died from a self-inflicted gunshot wound nearly two months ago.
Durden, a former paratrooper and veteran with two stints in Iraq behind him, was found dead on October 25 in Fayetteville, North Carolina. Apparently only one news story, this Worchester Telegram article from December 2, mentioned both Durden's passing and his part on the show before last night. TLC waited until nearly a month into this season's competition to acknowledge Durden's death.
Durden, originally from Jacksonville, N.C., served with the 82nd Airborne Division out of Fort Bragg. He is survived by a seven-year-old son and two-year-old daughter.