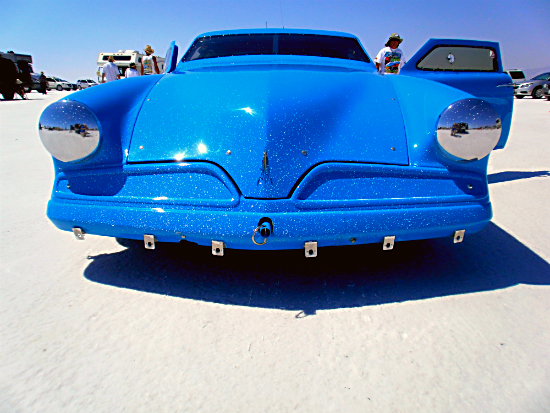 There's nothing like the salt.
Every August since 1949 the Southern California Timing Association has gathered on a dried salt lake bed on the Utah-Nevada border for Bonneville Speedweek. Every year thousands of hot rodders, motorcyclists and general speed demons descend on the salt flats to go fast and hopefully break new land speed records. Anyone who shows up with a vehicle, pays a small entrance fee and passes a safety inspection can run all-out on one of the salt flat's legendary 7-mile course. 
Last week I visited Speedweek for the second straight year with family and friends. We brought along a few Honda sportbikes (more on that in another post) but while I was there I snapped as many shots of cool vintage hot rods as I could. I don't claim to be a real car guy and I couldn't tell you much of anything about these cars, but I do know there's pretty much nothing on four wheels that touches the coolness of a vintage hot rod.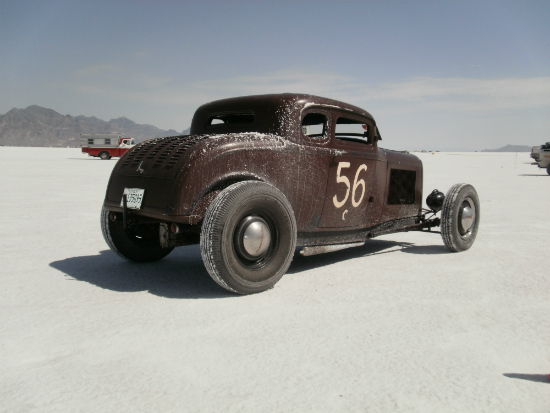 I think this is an old Ford roadster. There's just something about the white salt and blue skies that makes an old car look right.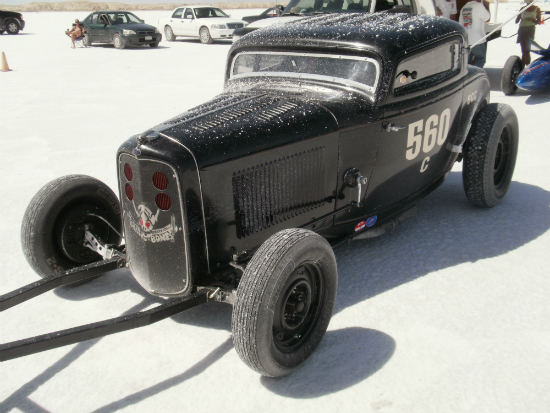 Here's an actual racer. The steel bar in front is used to tow the car back after each run. As a safety precaution, you're not allowed to drive/ride your race vehicle back.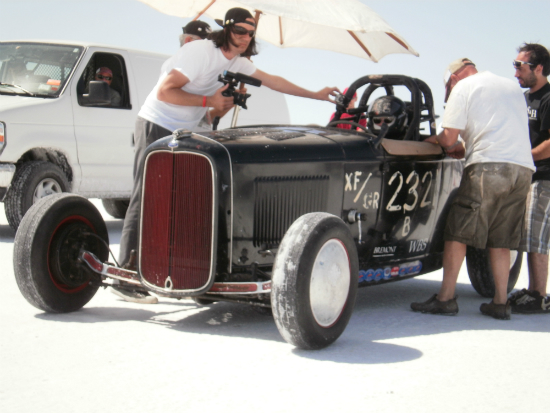 No windshield. No roof. Just a roll cage that wraps around the driver's head.
So on Wednesday, after a few days of racing out on the salt, my brother (commenter Trash_Melon) pointed over to a blond woman who was walking around in a fire suit (which are worn by the car drivers) and smoking a cigarette in 95 degree desert heat.
He told me he thought it was Tonya Harding. I told him to fuck off. He swore it was. He was right.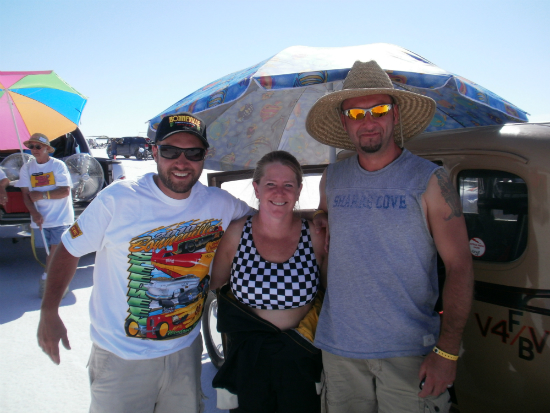 That's Trash_Melon on the left, Tonya in the middle and our trusty motorcycle mechanic and all-around buddy Robin on the right.
Tonya (who told me she no longer goes by Harding since remarrying) is actually the driver of a class record-holding vintage Model A Ford. She was very friendly, seemed happy to pose for a photo and didn't once try to have us beaten about the kneecaps with a lead pipe. So there you go, Tonya and I share a hobby in common and now I'm a genuine fan. Would that prissy little whiner Nancy Kerrigan ever show up to race cars in the Utah desert? Hell no!
Anyway, here are a bunch more photos of the various hot rods out on the salt. Click on each thumbnail to see the larger version. I'm going to probably put together another post later this week with some pics of motorcycles and hopefully even some of the videos we shot. Enjoy.