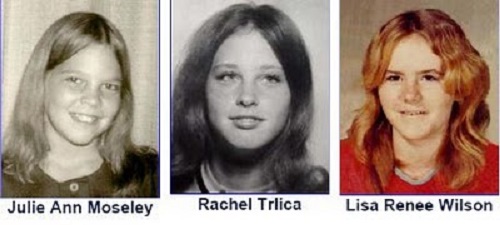 On December 23, 1974 three girls went to a Fort Worth, Texas mall to do some last minute Christmas shopping. Rachel Arnold Trlica, 17 and her friend Renee Wilson, 14 let their 9 year-old neighbor Julie Ann Moseley tag along as they ran holiday errands. The girls stopped at a local Army Navy store to retrieve some layaway items and then headed to a Sears store in the nearby Seminary South Shopping Center. 39 years later, they still have not returned and no trace of them has ever been found. 
The crime is perplexing. The girls seem to have disappeared without a trace. The missing girls have been the subject of intensive law enforcement investigation over the years, as well as a topic on  numerous amateur internet sleuth sites. There have been a number of theories and the case has resulted in some ugly allegations within one of the victims' families. However, the fate of the three girls is still unknown. Let's see if we can add some fresh eyes and attention to this case.
The Disappearance
On the morning of the disappearance Rachel, who was newly married, picked up her friend Renee for a trip to the mall. Rachel's young neighbor asked to come and the girls agreed to bring her along. The girls stopped first at to pick up some items on layaway and then proceeded to the mall.
Witnesses saw the girls at the mall that day, and at 6 PM Rachel's Oldsmobile was found in the mall parking lot. The gifts were inside the car, but the girls had disappeared. There were witness reports of the girls being hustled into a truck, but those reports have never been confirmed.
The morning after the disappearance Rachel's husband received a mysterious letter with no return address and a blurred postmark. The letter writer claimed to be Rachel and stated that the trio had left town for Houston. Rachel's family do not believe she wrote the letter and the letter writer has not been identified.
Solve the Cold Case
OK, gang. It's your turn to bring some fresh eyes to the case. Here is a basic synopses of the disappearance, and here is a huge true crime forum thread with lots of details about the case. Additionally, here is a site run by Rachel's brother (which is full of theories and accusations about other family members). See if you think you can figured out what happened to these three almost 40 years ago.
Top image via Missing Girls Book.