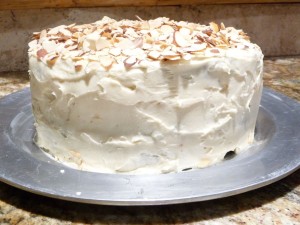 This was part of an article in (I think) Southern Living from about 15 years ago. Submitted by Phyllis Vanhoy of Salisbury, NC. I've put my personal notes and tips in italics. It's a freaking amazing cake!
2 C all-purpose flour
2 tsp baking soda
½  tsp salt
2 tsp ground cinnamon
3 large eggs
2 C sugar
¾ C vegetable oil
¾ C buttermilk
2 tsp vanilla
2 C grated carrot
1 (8-oz.) can crushed pineapple, drained
1 (3 ½)  oz. can flaked coconut (I buy a bag and weigh it out)
1 C chopped walnuts or pecans (I use pecans)
Buttermilk Glaze
Cream Cheese Frosting
Line three 9-inch round cakepans with wax paper; lightly grease and flour wax paper. Set pans aside. You can use parchment paper as well and in fact you may find that it sticks less.
Stir together first four ingredients. Set aside.
Beat eggs and next four ingredients at medium speed with an electric mixer until smooth.
Add flour mixture, beating at slow speed until blended. Fold in carrots, and next three ingredients. Pour batter into prepared cake pans.
Bake at 350 F for 25 – 30 minutes or until a wooden pick comes out clean.
Drizzle Buttermilk Glaze evenly over the layers; let cool in pans on wire racks 45 minutes.
Do not, DO NOT turn them out of the pans before you're ready to assemble each layer of the cake. The cake is really moist and will come apart if you take it out of the pans before you're ready to frost each layer.
Remove from pans, and cool completely on wire racks. Spread Cream Cheese Frosting between the layers and on top and sides of cake.
Yield: One 3-layer cake
Buttermilk Glaze
1 C sugar
½ c buttermilk
1 ½  tsp baking soda
½  C butter or margarine
1 Tbsp light corn syrup
1 tsp vanilla
Bring first 5 ingredients to a boil in a large dutch oven over medium-high heat. Boil, stirring often, 4 minutes. Remove from heat and stir in vanilla. Yield: 1 ½ cups
First of all, this foams quite a bit so don't be alarmed, and be sure to use a pan big enough. A dutch oven is great, but any deep, heavy-bottomed pan should be fine. Also, I generally cook mine until it's a lovely deep caramel color, which may take you longer than 4 minutes. Do stir frequently or it will burn.
Cream Cheese Frosting
3/4 C butter or margarine
1 8-oz. pkg cream cheese, softene
d1 3-oz pkg cream cheese, softened
3 C sifted powdered sugar
1 1/2 tsp vanilla extract
Beat butter and cream cheese at medium speed with an electric mixture until creamy. Add powdered sugar and vanilla; beat until smooth.
Yield: 4 Cups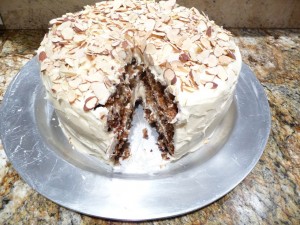 A few additional notes from my years of making this cake:
I double the recipe for the frosting. It doubles just fine and who doesn't like a little extra when everything is said and done? I don't double the glaze.
I like to top the frosted cake with sliced almonds that I've toasted in the oven just a tad too long. Alternatively, I top with toasted coconut.
I have made this as a sheet cake as well, just keep an eye on it in the oven. If you do that, you won't need to double the frosting, but you lose the layered effect, which is ridiculously delish. This past Thanksgiving, I made a double sheet cake since we were expecting 30 people. I had to double the glaze, and I quadrupled the frosting, but I could have gotten away with tripling it.
Also, regarding the layers—I usually insert 3 wooden skewers into the cake once the layers are assembled, before frosting the outside of the cake. It helps keep it from ending up looking like the leaning tower of Pisa.
I hope you guys enjoy this as much as my family/friends and I do!
ETA: One thing I forgot to mention is that you can make the glaze and use it to top any number of other cakes or breads. It's especially delicious on bread pudding!