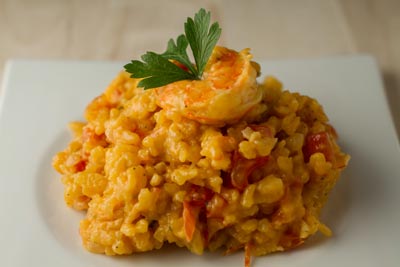 Risotto is one of those dishes that gets a lot of flack for being "hard to make". Yes, you can't just set it and forget it, and it is a bit of a pain to stir it every few minutes, but the effort is totally worth it, and realistically you will only be stirring on-and-off for about thirty minutes. NBD. This recipe is near and dear to my heart as I created it when I was wooing my husband. On Tuesday we celebrate our 9th wedding anniversary, so I can say with confidence that this dish will certainly get you some. Serves 4.
Ingredients
4 cups chicken or vegetable stock (you can substitute some of the stock for clam juice)
1 tbsp olive oil
1 tbsp butter
1/2 medium onion, chopped
2 garlic cloves, minced
1 cup Arborio rice
1/3 cup white wine
3 Roma tomatoes, chopped
1 pound medium shrimp, peeled and deveined
2 tablespoons chopped flat-leaf parsley
fresh ground pepper to taste
Preparation
Heat the stock and keep it hot (but not boiling). In a large saucepan, heat the olive oil and the butter over medium heat. Saute the onions until they are translucent, about 5 minutes. Add the garlic and saute for 2 more minutes, stirring frequently. Add the rice and cook for about a minute. Add the white wine and cook until most of the wine has evaporated, about 3 minutes. Add the tomatoes and stir. I find it helpful to set a timer for 30 minutes at this step.
Here is where things get a bit tricky: you will now begin adding the hot stock, a few ladelfulls at a time. The idea is to have enough stock to just cover the rice. Start stirring until about half of the liquid has evaporated. Add more liquid, and keep stirring. You don't have to stir all the time, but you want to make sure your rice is not sticking to the bottom of the pot. When you have about 7 minutes left in the timer, add the shrimp until they are cooked. Right before serving the risotto, stir in the parsley and some fresh pepper. Serve with plenty of parmesan cheese.
I've included a video that shows the procedure for cooking the risotto. You can add more seafood, such as clams or scallops, but make sure you decrease the amount of shrimp. Also, my risotto came out looking orange because I used some chicken bouillon cubes with annatto.