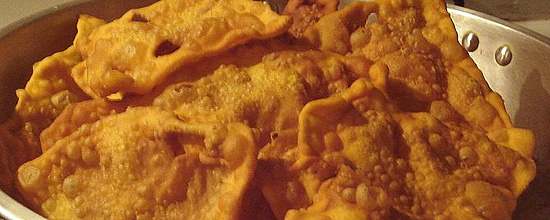 Hojaldras (pronounced ohaldras) is the Panamanian (and Colombian) version of fried dough. In Panama, at least, it is served as a breakfast bread, and it is not sweetened with powder sugar, so it is more of a salty snack. Today, I am sharing with you my grandma's recipe.
Ingredients
1 lb. flour
1 teaspoon baking powder
3/4 teaspoon salt
1/2 teaspoon sugar
4 tablespoons butter, room temperature
1 cup water
oil for frying
Preparation
Mix dry ingredients in a large bowl. Add butter and mix into the dry ingredients with a fork or two knives (making a cutting motion) until the mix is crumbly. Add water a little bit at a time, while mixing with your hands until the dough separates from the bowl. Make small balls of dough, and then stretch them with your hands until they are about 5″ in diameter (they won't be perfectly round, more like ovals). Place about 2″ of oil in a pan, and preheat over medium-high heat. When the oil is hot, fry the dough until it is golden brown and bubbles up. Serve with fried eggs, or just by themselves.
Photo courtesy of Maria Claudia/Wikimedia Commons.