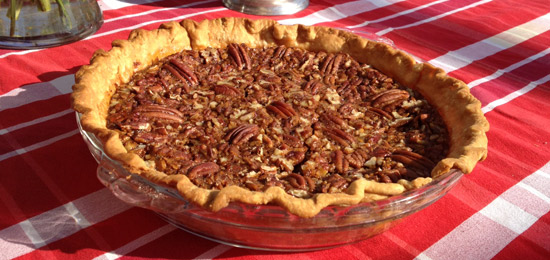 Even though the season of gluttony and sweets is behind us, I can't help but share my grandmother's recipe for pecan pie. We lost my grandpa last year, so this past December was the first time my grandmother came to visit us and spent the holidays in the U.S. We had a wonderful time, and she earned her keep by baking several pecan pies, which then only lasted about 24 hours as we greedily devoured them.
Ingredients
1 pie shell (you can make your own but I buy these)
5 eggs, beaten
1 cup dark corn syrup
1/8 teaspoon salt
1 cup brown sugar
2 tablespoons butter, melted
1 teaspoon vanilla extract
1 cup pecans, roughly chopped
12 pecan halves, for garnish
Preparation
Preheat oven to 400 degrees F. Place pie crust in a glass pie dish. Mix all ingredients except for pecans and pour onto pie crust. Add chopped pecans, and place pecan halves throughout the top layer of the pie. Bake for 15 minutes. Turn temperature down to 350 degrees F and bake for another 30 to 35 minutes. Wait for the pie to cool before serving.