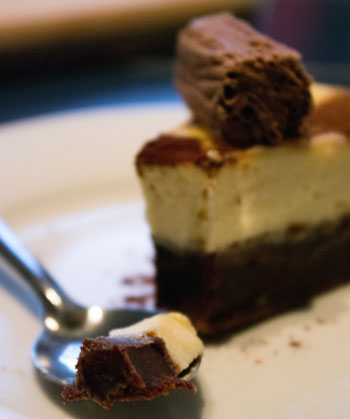 This is one of my favorite desserts in the whole wide world. I cobbled together the recipe by using Alton Brown's brownie recipe, and Tyler Florence's Ultimate Cheesecake recipe. I have found that the top of my cheesecake will always crack unless I bake it it in a water bath. To do this, wrap the bottom and the sides of the springform pan in aluminum foil (I have to use the heavy duty foil as it is wider, otherwise the sheet of foil is not wide enough and I get "leakage"). Also, because of the brownie base, you may want to place a disk of parchment paper or a cardboard disk first before adding the brownie batter. This will make your life much easier when it comes time to removing the cake off the bottom of the pan.
Ingredients
For the brownie base:
2 eggs
1 cup brown sugar
4 ounces melted butter
1/2 cup cocoa
1 teaspoon vanilla extract
1/4 cup flour
1/4 teaspoon kosher salt
For the cheesecake layer:
1 pound cream cheese, 2 (8-ounce) blocks, softened
3 eggs
1 cup brown sugar
2 cups sour cream (16 ounces)
1/2 teaspoon vanilla extract
Preparation
Preheat oven to 325 degrees F. Grease the sides of an 8-inch springform pan, and line the bottom with parchment paper or place a cardboard baking disk on the bottom. Wrap the springform pan with foil so you don't have to worry about this step later. Beat eggs at medium speed until fluffy. Add remaining ingredients and mix thoroughly. Pour batter into greased springform pan and bake for 30 minutes. Remove to a rack to cool.
Beat the cream cheese with an electric mixer until it is smooth and free of lumps. Whisk the eggs and set aside. Add the sugar, vanilla, and sour cream to the cream cheese and mix thoroughly. Add the eggs and beat slowly until combined. Do not overbeat. Pour the cheesecake filling onto the mostly-cooled brownie base. Place the cheesecake pan in a large roasting pan. Pour boiling water into the roasting pan until the water comes up about halfway up the sides of the cheesecake pan. Bake for 45 minutes. When the cheesecake is done, you will still have about a 2-inch section in the middle that jiggles.
Turn off the oven, crack the door open, and let the cheesecake rest in the oven for another hour or so. Cool the cheesecake at room temperature with a plate or cookie sheet inverted over the cheesecake to slow the cooling. Refrigerate for at least 6 hours. Loosen the cheesecake from the sides of the pan by running a warm boning knife around the inside rim. To warm the knife, soak it in warm water, and wipe dry before using.
Photo © Breahn Foster via Flickr.