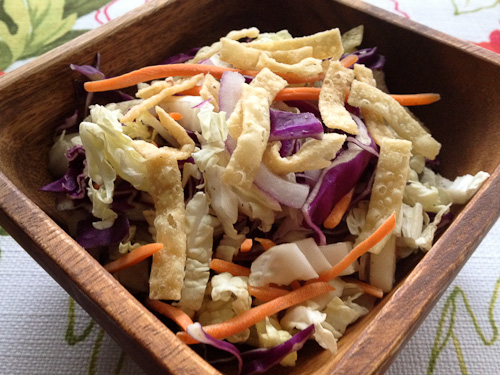 Last weekend, I was asked to bring a side dish to a friend's house. On the menu: college football, pulled pork sandwiches, and smoked chicken wings. Since summer is still in full force here in Central Florida, I decided to bring something lighter, instead of the typical baked beans or potato salads that are the usual fare at these gatherings. Immediately, my thoughts went to an Asian-style coleslaw a neighbor once brought to a block party, and David Lieberman provided an easy recipe that turned out to be a hit.
Of course, I made a few changes to his recipe, and ended up with a crunchy slaw that went very well with the two pulled pork sandwiches I stuffed in my maw.
Ingredients
1 bunch (6 large) scallions, trimmed and thinly sliced
1/2 small red cabbage, shredded
1/2 medium Napa cabbage, shredded
1/2 small red onion, thinly sliced
1 cup matchstick carrots
1/4 cup soy sauce
1/4 cup lemon juice
1/4 cup vegetable oil
1 tablespoons minced ginger
2 tablespoons rice wine vinegar (you can use white vinegar as well)
2 tablespoons dark brown sugar
2 teaspoons sesame oil
salt and pepper to taste
crispy wonton strips
Preparation
Mix all the veggies in a large salad bowl. To make the dressing, whisk soy sauce, lemon juice, vegetable oil, minced ginger, vinegar, brown sugar, sesame oil, salt, and pepper. Toss the slaw with the dressing right before serving so the greens won't get mushy. Top with crispy wonton strips.
Pro tip: Even though the head of cabbage looks small, it will still yield a large amount of shredded cabbage. Trust me, as I bought a 5 pound head of Napa cabbage and only used half. If you have any tips on what I should make with the rest of the Napa cabbage, please let me know in the comments!