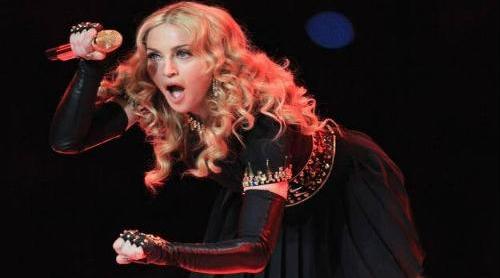 By LaZiguezon and Dancing Queen
Most people of the world can no longer imagine a time when Madonna didn't allow them to share the planet with her.
Born on August 16, 1958 in Notting Hill, United Kingdom Bay City, Michigan, United States, Madonna Louise Veronica Ciccone was raised in a blue-collar Italian-American household. After graduating from high school, Madonna received a dance scholarship to the University of Michigan, but eventually dropped out and moved to New York City in 1977.
Her Blond Ambition took her to the clubs where she passed out her demo tapes. Her catchy dance tunes quickly got the attention of producers and her first album was released. While performing the hit party anthem Holiday on Dick Clark's American Bandstand in 1984, she responded that the nature of her dreams was
Her first album, Madonna, was released in 1983 and sold upwards of 10 million copies.
She was made for the new music medium that was MTV and soon girls were wearing lace finger gloves and their bras out side their shirts (like prostitution hoarrhhhhs).
Her 1984 album, Like a Virgin, sold 21 million copies (perhaps coincidentally, Venice has been sinking at an accelerated rate ever since).
With that, Madonna became the Queen of Pop.
One can't rule the world with music alone, and Madonna starred in her movie debut in Desperately Seeking Susan alongside Rosanna Arquette. These images are the only thing you'll ever have to know about this film. Trust.
She met and married Sean Penn
who most believe is her only true love. Never shy to speak her mind, Madonna pushed the envelope during a conservative era marked by both Reagan and Thatcher.
The early 1990s marked a more sexually charged Madonna, culminating in both her Blonde Ambition Tour and a published aluminum-jacketed book titled Sex in which she subtly hitch-hiked naked.
Backlash quickly ensued
and Madonna was threatened with excommunication from the Pope.
Madge tried her hand at acting again in A League of Their Own but no one told her that this would be her biggest cinematic success.
Madonna and Penn divorced and a the OG cougar was released into the wild. Madonna became pregnant by her trainer, Carlos Leon, while filming her Academy award nominated role as Evita (okay so she won the Golden Glode, big whoop).
With the birth of Lourdes in 1996, there appeared to be a more understanding, introspective, Madonna.
Although similarly ginormous stars have filed for bankruptcy, suffered untimely deaths, and/or entered rehab (or at least should have)
Madonna joined an expensive cult in 1997.
2000 marked her marriage to Guy Ritchie and both succeeded in film-career suicide with 2002's Swept Away, which grossed $354,052 during its opening weekend. Their baby Rocco was more of a success.
Through it all, Madge has remained a chameleon. She's gone through her drunk bride phase
a stigmata phase
a look at my face, phase
a Hindu phase
an S & M phase
an ecstasy ecstatic phase
a lesbian of convenience phase
a chess playing phase
a give me back my career, phase
and a humble phase.
While regaling her fans with albums, movies, an entertainment company, world tours, and theatre work, Madonna also became a NYT's best-selling auteur for her children's picture book series. Sawwy starving artists.
In 2008, she divorced Guy Ritchie and began dating Jesus. Well a more young, chiseled, Latin American version of Jesus. She also gave up pants, flexed her vagina muscles, and released her 10th studio album titled Confessions on a Dance Floor, embarking on a world hip-thrusting tour
2012 marked another watershed moment in Madonna's long-standing career.
She not only performed at the Super Bowl
won Best Song for Masterpiece at the Golden Globes for her directorial debut for W.E.
and taught the world the meaning of "reductive." Still don't know what it means?
She also released her 12th studio album, MDNA
There's no denying that after 30 years, Madonna's here to stay and if you don't keep buying her albums, she'll just direct more movies. Be sure to pre-order your tickets for her 2032 World Tour, or there will be hell to pay.
Want more? Check out:
Celinespiration: The Life and Times of Celine Dion as Told by Gifs,
Kanyespiration: The Life and Times of Kanye West as Told by Gifs, and
Beyoncespiration: The Life and Times of Beyonce In Gifs
(Image c/o 1)