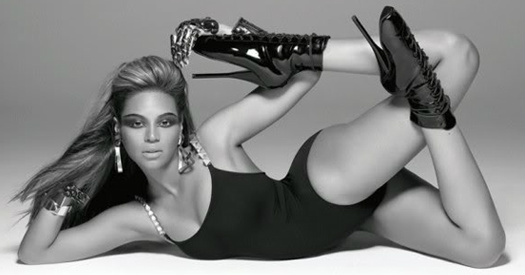 By Dancing Queen and LaZiguezon
Lawd have mercy on the soul named Beyoncé. Her meteoric and ever so calculated rise to success has chewed up and spit out many a lace-fronts and created haterz world wide! Whether or not you drink the Haterade, there is no arguing that betch is beautiful and unbelievably talented. Let's take a look inside the life of the woman who runs the world (sawwy, Madonna).
Beyoncé Giselle Knowles–(now)Carter was bestowed upon us mere mortals on September 4, 1981 through her vessel, Tina Knowles (née Beyincé, of course) and Mathew Knowles (one "t," of course). 1981 being the year of an assassination attempt on Pope John Paul II, the marriage of Diana Spencer to Prince Charles, and the inauguration of the greatest president ever known in American history, Ronald Reagan, Beyoncé's success eclipses any of these events.
Her natural Joe Jacksonish-honed talents were obvious at an early age
and in a bit of foreshadowing, Bey got her "Bish please" look established early.
Following in a long line of girl groups, Bey's fathernager started Destiny's Child. They soon had to rid themselves of some "issues" involving "royalties" and "writing credentials."
Eventually, she had to dump them trifflin' hos Kelly and Michelle
because really, they were just holding her back from becoming Queen Bee.
Being a triple threat took a lot of bribing work. Bey released her début solo album Dangerously in Love in June 2003, which debuted at number one on the Billboard 200 and was certified four times platinum by the Recording Industry Association of America.
**Brief side note – Her success has NOTHING to do with the House of Deréon**
Y U NO BUY House of Deréon

Even Sponges who live in pineapples under the sea worshiped her.
Bey was unstoppable in pursuit of your attention.
She was just getting started.
Soon, Sasha Fierce was revealed
and a legend was born (again).
She can defy gravity,
except when she doesn't.
She has so many haters…
so many…
that she has to laugh.
Tell those betches to come back to her when they have 900 Grammys and 10 hundred million dollars like she does
because
In fact, she bar-b-ques and eats them for breakfast

and keeps it moving.
She is never ridiculous
But really
She says
to pants because they limit her ability to move
so she didn't wear any for three years and counting.
She also has the best weave in the game.
Wig-snatching ho approved.
She has mad acting skillz
Jay-Z liked it
which was not AT ALL part of the plan.
So he put a ring on it.
She, her fathernager and fired stylist mom were so excited.
Everything was so secret.
Until, in her typically subtle form, she announced that she would be having an heir to the throne…
a throw pillow!
Just kidding lawyers for Bey and Jay. We're talking about Blue Ivy™
Even without Jay and Blue Ivy™, Bey's got it on lock.
In sum, y'all ain't her but want to be, betches.
For more gifspiration, check out Kanye and Celine.