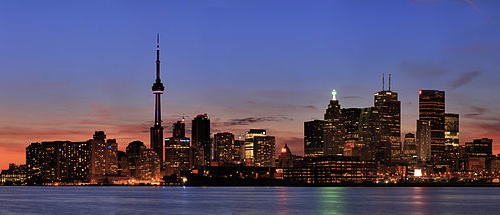 By LaZiguezon and TS
Americans, tomorrow's election results may very well be the moment you decide to move to Canadaland permanently. Of course, we will probably reject your application since "unilingual underemployed and heavily indebted bleeding heart Liberal" seems to secure very little leverage on our points-based immigration application. Nonetheless, if a few of you are lucky enough to garner TS's or my love, you may have a stronger chance. So sit back and get to know an "off the beaten path" version of your new city, Toronto.
Believed to be one of the most multicultural cities in the world, Torontonians have a limitless variety of food choices. Here are a few you may enjoy getting to know.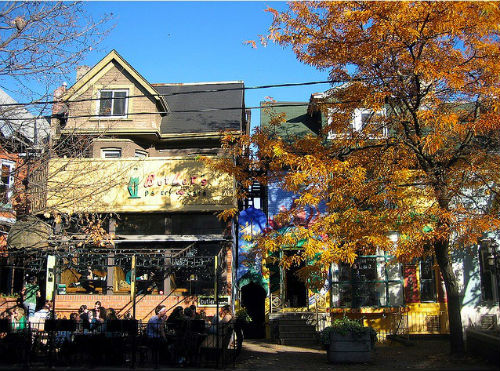 This café is a local favourite (as is its second location in Mirvish Village) and can be counted on to be busy on weekends, particularly Sundays, as brunch is their particular specialty. They focus on healthy (at least relatively speaking) versions of brunch favourites and what they call "international comfort foods", including jambalaya and bulgogi. I particularly recommend their French toast and shepherd's pie. For brunch after a rough night, it's hard to beat, just be ready to wait in line for a table.
This restaurant, serving Mauritian food, is a hidden gem on northern Roncesvalles. It's a family run place, with the father in the kitchen and the mother and son working the front of the house. It's only open on Fridays and Saturday nights, but it's worth working it into your schedule. Hanging on the walls is work by local artists, all of which is available for purchase if it tickles your fancy. I recommend jacking the spice up as high you find comfortable, because that's when the flavour really comes into its own. Do be prepared for the service to be slow, but exceedingly friendly.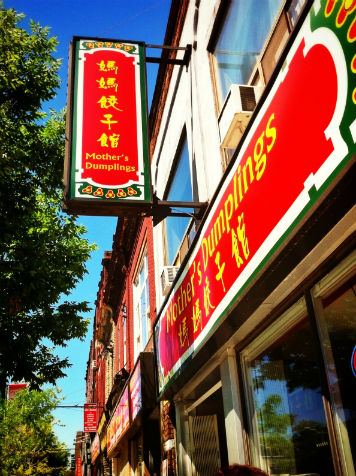 While it may not look like much from the outside, or for that matter from the inside, this restaurant is the home of quite possibly the best dumplings in all of Toronto. They come in many varieties, but vegetarians beware, you'll only find two non-meat types of dumplings on the menu. There are non-dumpling items on the menu, but it's rare for anyone to order them given how good the dumplings are. Mother's brings together the perfect combination of tasty food in good quantity for a low price.
Located in Corso Italia, aka Little Italy, aka as Toronto's most beautiful people, Tre Mari Bakery has been serving Torontonians for over 50 years. Still owned and operated by the Deleo family, customers are treated to fresh bread, groceries, and never-ending pastry displays (I love you bombetti and zeppole). Voted Toronto's best bakery in 2012, customers over 5'0" may very well be the tallest people in the store.
Considered one of Toronto's first Thai restaurants, the Golden Thai has been feeding hungry bellies for over 20 years. Located on the corner of Richmond and Church, you will not find a more welcoming, delicious, and charmingly designed restaurant. Be sure to make reservations if you go on a Saturday night.
While no Montréal, the arts, leisure and educational fields play a crucial role in making Toronto, well Toronto. There's always somewhere to be, products to buy, and places to be entertained.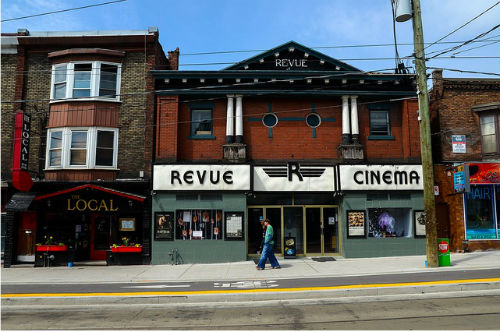 A community-owned cinema, the Revue has a long history with its neighbourhood. Several years ago, it seemed to be dead, with the little chain of second-run cinemas it was a part of going out of business. But the community rallied, and now the Revue is a cinema showing a mix of international and art films, as well as the occasional more mainstream film like a Woody Allen or a classic film like The Shining. The Revue has been a community institution since 1912, and is well worth a look for movies you won't see at any other cinema.
Founded in 1978, Buddies in Bad Times is Toronto's premier LGBT-themed theatre company and is a leader in promoting works by female playwrights. Buddies in Bad Times routinely hosts high-quality and often provocative modern plays. The plays staged by Buddies in Bad Times are almost always well staged, thought-provoking, performances. If you're looking for alternative theatre in Toronto, Buddies is the place to go.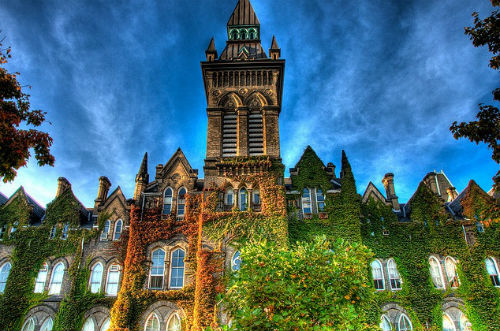 Considered Canada's "Harvard of the North," dahlings. Nestled in the heart of downtown Toronto, U of T's (1827) stunning mix of heritage and contemporary buildings serves as a lovely oasis from a frenetic city. Ranked one of the top universities in the world (it should come as no surprise I'm an alumna), visitors should spend an afternoon traipsing across King's College Circle as University College and Hart House are both must-sees.
Opened in August 2010, Snakes & Lattes is Toronto's first "board-game café." With 2,369 unique games to choose from and staffed by the most infinitely patient workers willing to explain the rules, one can easily spend hours watching one's companions win at every round. You're advised to book a table or be willing to wait hours to be seated. Turns out, board games are serious business.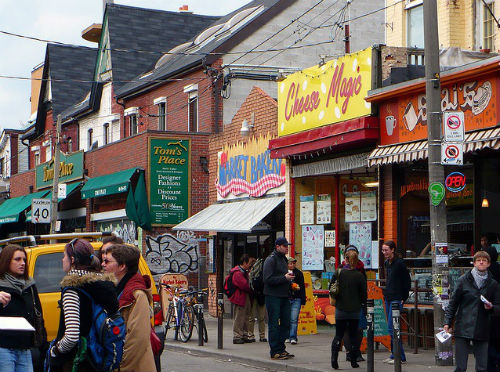 Kensington Market once served as Toronto's "Ward," an immigrant-reception area welcoming Jewish and Italian immigrants during the early 20th century. Located on the borders of College, Spadina, Dundas and Bathurst St, Kensington Market (aside from Queen Street West) is your go-to place for cafes, mom-and-pop stores, fruit markets, and second-hand shops.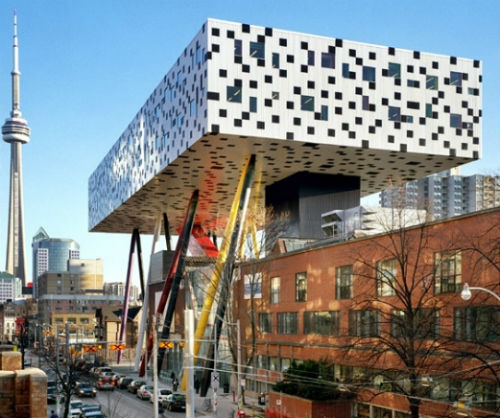 Producing some of the most exciting up-and-coming artists (Kristine Moran, Nicholas Di Genova, Emmy Skensved), art critics (Nadja Sayej) and curator-owned galleries (Le Gallery), OCAD is everything you'd want in an art school. Designed by architect Will Alsop, the university's weekend-long Graduate Exhibition Program is well worth a visit.