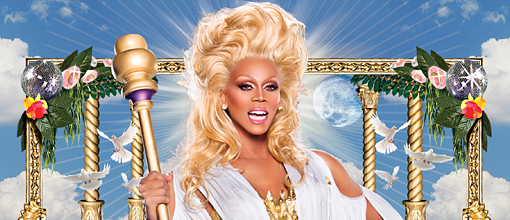 The queens all get a bit of a reality check from last week's double elimination. "Ru is not playing the radio," says Alyssa. Did I hear that right? Is that what she said? Is that even something people say? Whut? Anyway, before long Alyssa and Jade are sniping at one another, with Jade especially getting vicious. Yes, Alyssa said she thought Jade should go home, but Jade needs to learn how to modulate her response these situations a bit better. Learn how to cut someone down with a few well chosen words, rather than coming off like a shrill child who isn't in control of her emotions. Anywhore, hit the jump for my full recap and the updated Drag Race Index.
You've Got Shemail & Mini Challenge
Television Ru talks about how stars are made in Hollywood and tells the dolls their fifteen minutes start now. Man Ru enters the workroom and tells the queens they'll be doing a Who Wore It Best mini challenge. They have thirty minutes to change a blanket into something red carpet worthy. Detox, Roxxxy, and and Alyssa win the mini challenge.
Main Challenge
Ru announces that the main challenge this week is Snatch Game! "This is what I came here to do," Jinkx says excitedly. Jinkx tells the other queens she's going to be Little Edie of Grey Gardens, and none of these bitches know what she's talking about because they are the worst gays ever apparently. I guess it shouldn't be too much of a surprise after last week when Lineysha didn't know who Diana Ross was. *facepalm*
During Ru's workroom visit, we discover that Ivy is going to play Marilyn Monroe. Ru seems concerned that it will be difficult to find the right balance in the character while keeping her as funny as possible. Alaska will be Lady Bunny, and Ru says she wants Alaska to be even funnier than Lady herself. Coco will be Rhythm Nation era Janet Jackson because she does it six nights a week in Vegas so knows very well how to play Janet, but Ru reminds her it must be funny. Detox will play Ke$ha, and because she knows her personally, Ru wonders if Detox might feel bad about really making fun of her. Ru tells Jinkx to make sure her Edie is something that a mass audience can find funny even if they don't know who she is. Lineysha plans to be Michelle Obama, and that has disaster written all over it.
Alaska and Jinkx were very funny, and Roxxxy had a couple of good moments (this despite the fact that I have no frame of reference for Tamar Braxton), but the rest of these bitches just sort of sucked. I was a more than a little let down by this season's Snatch Game. In the workroom after the challenge, many of the queens gang up on Jinkx, claiming she's been wearing just one look on the runway, which isn't true, and I wanted to slap those cunts. I am Team Jinkx now even harder than I was before.
Main Stage
The judges are: RuPaul, Michelle Visage, Santino Rice, Julie Brown and Downtown Julie Brown. (I loved loved loved the double dose of Julie Brown nostalgia.)
Ivy Winters' goldfish dress strikes a good balance between costume and fashion, comedy and glamour.
Detox's short, poofy dress is bizarre. She is definitely having an off week.
Jade Jolie's ensemble is like a cut rate version of the fetish look Coco walked the main stage in back in episode 2.
Roxxxy Andrews is a bit thick for the look she's trying to pull off, but she looks pretty good, and her hair and makeup are on point. I can appreciate that she's proud of having lost weight, but she seems to err on the side of showing more skin than she should.
Jinkx Monsoon went boho chic. A little too reminiscent of the caftan looks Honey Mahogany was so fond of, but it's the first time Jinkx is rocking the look if I'm not mistaken. Michelle Visage is not going to like this.
Coco Montrese looks very Nicki Minaj Pink Friday, and it's a solid if nothing special for her.
Alyssa Edwards looks the most traditionally glamorous to me.
Lineysha Sparx is rocking some kind of feathery, leathery thing. She looks good, but again I feel like this is a look we've already seen better from someone else.
Alaska's dress is all mermaid, and true to her wackadoo style she's literally carrying a trout down the main stage.
Jinkx Monsoon wins the challenge! Eat it, you know-nothing bitches.
Lip Sync For Your Life
Detox and Lineysha are in the bottom two and must lip sync "Take Me Home" if they hope to stay in the competition.
This is a pretty evenly matched lip sync. They're both strong, even as they approach the performance from very different perspectives. Detox goes full camp, while Lineysha's delivery is completely straight-faced.
Shantay, Detox stays. Lineysha sashays away.
Drag Race Index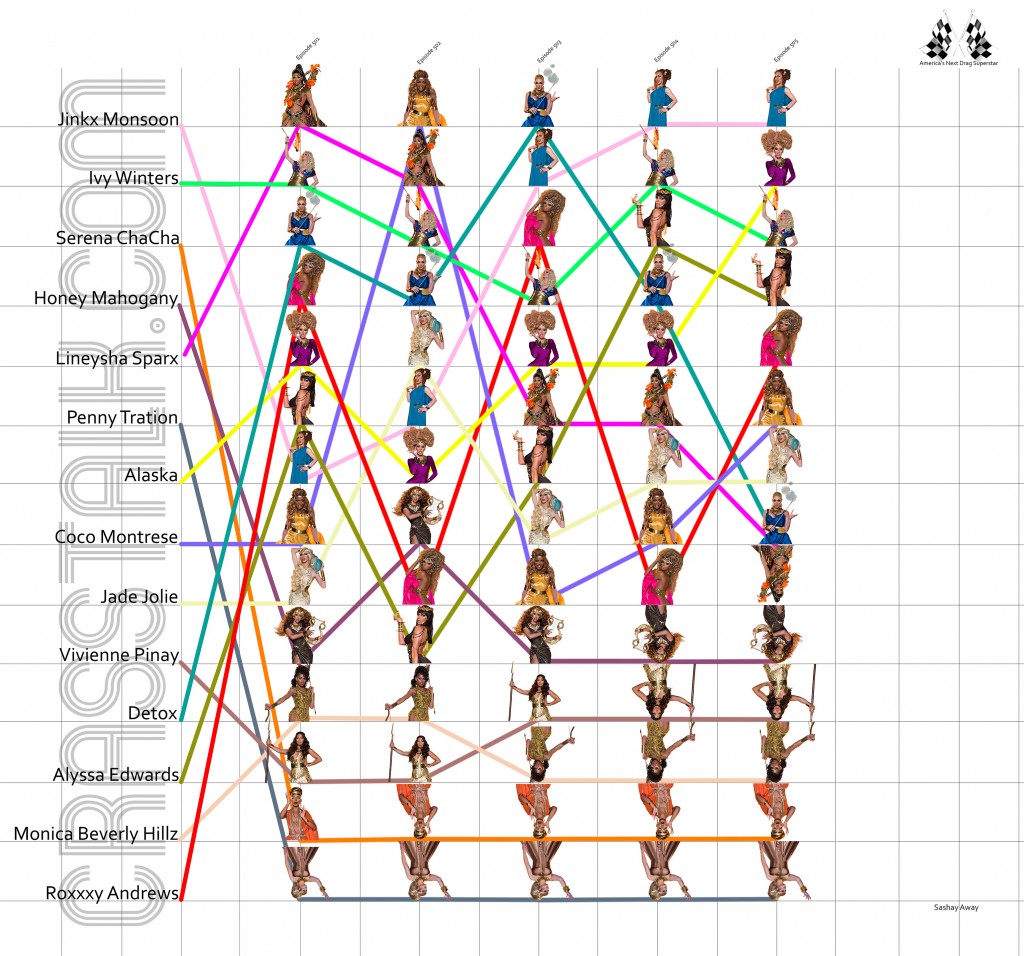 Click to enlarge! Jinkx remains at the top of the pack this week, having proven once again that she has what it takes to go all the way in this thing. Alaska's strong performance during Snatch Game and great main stage look have solidified her as top three material. She knocks Ivy down a peg. I think Ivy still has what it takes to go very far — her main stage look alone is all the evidence you need — but weren't you surprised at how she fumbled Snatch Game? I thought she was going to do really well with it. Alyssa also took a small dip in the index. Her Katy Perry was atrocious, but like Ivy she redeemed herself partially with a good main stage look. She's just lucky she had immunity.
Roxxxy bounced back up this week. She did well both in the main challenge and on the main stage so she has a renewed lease on life in the index. Was it a mistake for me to drop Detox all the way to the bottom after one bad week? No, I don't think so. We're at the point where one false move, one bad week, is all it's going to take to land a bitch in the bottom and possibly send her home. I still think Jade will probably go home before Detox, of course, but Detox really had a major fuckup this week, and similar to Ivy, Detox is someone I expected would do very well with Snatch Game. Here's hoping she gets her shit together for next week.
What did you think of this season's Snatch Game? How would you rank the queens? Sound off in the comments, and I'll see you next week!