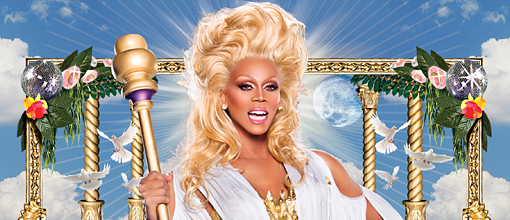 The time has come, hunties. Season 5 is upon us, and it looks to be a good one. Drag U may be blah, and the first season of All Stars may have been a disappointment, but Ru's flagship series consistently deliver the goods year after year. Join me after the jump for my recap of the season premiere, and get ready for a fun new feature I'm adding to the recaps this year.
Detox is first to enter the workroom in her feathered top hat and latex bumble bee outfit. She's already miles above the way she looked in her intro video — I may have underestimated this betch. Miss Roxxxy Andrews is next, looking a bit like she just walked off the set of a very special Designing Women episode that saw the girls hitting the clurb. She and Detox are franz apparently. Jade Jolie sashays in next. She's dressed like she maybe starred in a pilot for a show called My So Called Blossom Explains It All — (un)fortunately it wasn't picked up to series. Jade is a sweetie-pie though. Serena Chacha enters next, wearing a very sculptural dress. She's annoyed by Roxxxy and Detox's rapport. Get over it, gworl.
Alyssa Edwards struts in next, with some big old hair. She says she's "the Vanessa Williams of drag" because she had her Miss Gay America crown taken from her. Drama! I suppose we'll find out more about this later. Her voice. I don't know what to say about her voice. It sounds, um, maybe a little, uh…like she swallowed the last dick she sucked, and now it's just lodged in her throat, flapping around every time she tries to utter words around it. I do like her look though — she's well put together. Jinkx Monsoon makes her entrance next. She's wearing a bathing suit, sunglasses and hat combo that is somewhat of a nod to Old Hollywood. "I can hear the cackling from down the street," she tells the queens. Jinkx, I already loved you from your intro video, and I love you even more now. Please make it to the top three and/or win this thing. Penny Tration enters next. Our obligatory big girl this year was chosen via web vote. I'm a little bummed that Ru didn't select any larger queens herself.
Vivienne Pinay enters in a Bettie Page ensemble. Very nice, refined. Alaska shows up next, covering her face with a horse mask before doing a big reveal. Of course the only thing the other bitches want to talk about with regard to Alaska is her partner, Sharon Needles, Season 4's winner. Honey Mahogany enters next. She's extremely statuesque, but her hair and makeup read a bit like Disco Hangover. Ivy Winters comes in next, wearing a cute ensemble embellished with CAUTION tape. Monica Beverly Hillz enters the workroom, looking very colorful — one part Julia Roberts in the beginning of Pretty Woman and one part psychedelic macrame. She says she's been called "ghetto" before, but that's where she was raised, she's street smart, and there's nothing wrong with that. You're damn right, Monica. Lineysha Sparx is the next queen in, and this bitch is flawless. Her makeup and hair are on point, and her outfit looks good, but it's really more about the way she carries herself — she has a poise about her that none of the other queens possess. Could she be the first winner from Puerto Rico?
Finally, Miss Coco Montrese makes her grand entrance into the workroom. She's all animal print and Chanel knockoff sunglasses, but we don't get to focus on her look for long due to the dramatic music and cut to Alyssa Edwards. It turns out these two bitches know each other. We learn they did a pageant together. Coco thinks Alyssa bamboozled her, and Alyssa tells us that Coco was "backstabbing me behind my back." Well how else was she gonna backstab you, betch? From the front? Shet. This is something new for Drag Race, no? I don't remember this level of drama being played up between two competitors before. They are going to milk this a good long while, aren't they? That's fine, I guess, but I rilly want to know the story right now, and the story better be good.
You've Got Shemail & Mini Challenge
Ru welcomes the queens to "RuPaullywood," and after an orgasmic earthquake nearly knocks her out of her heels, she tells the dolls they need to fake it until they make it.
As with previous seasons, the first mini challenge involves the queens getting their pics taken under trying circumstances. This year, they have to submerge themselves in a tank of water while Mike Ruiz snaps their portaits. Detox and Lineysha really nail it. Serena, Jinkx and Alaska have the most trouble. Alaska has so much trouble with it that she decides to give up before she's dismissed. Not cool, Alaska. Jinkx loses her contacts and flails around quite a bit. Serena, we find out, did not tuck that day, but at least she had underwear on.
As the dolls untuck and de-drag, Jinkx talks about her narcolepsy. Srsly, Jinkx, I love you. The pit crew gives the ladyboys some cocktails, and Ru enters to tell the queens that Detox won the mini challenge. Ru tells the queens they'll be going on a shopping spree in Beverly Hills the next day.
Main Challenge
After a bizarre and entertaining music video interlude (for RuPaul's "Hollywood U.S.A."), the queens arrive at Marco Marco and are greeted by Camille Grammer. LULZ. She tells them they can't use the main entrance, they have to meet Ru at the VIP entrance around back. It turns out that they're actually going to be dumpster diving for materials to make a red carpet couture look. They get only one minute! Chaos ensues.
Back in the workroom, we learn that Roxxxy wears a "daytime dress" when taking off her makeup. "Ooh, y'all cannot take me!" she says. At first I thought Roxxxy might be a bit of a Shannel, but no, she's actually pretty funny. For now. Alaska dances around naked, and Coco tells us that Alaska has a horse dong. Ooh goodness. Jade pulls out a big length of red, sequined fabric, and Alyssa immediately tries to get chummy with her. Some other queens — including Coco — tell Jade to be careful, and there's a brief standoff between Alyssa and Coco. Drama! Vivienne asks when Alyssa is going to tell what happened between them. "When I'm ready," Alyssa says. Bitch, we ready now. Ain't nobody asked when you was gonna be ready.
Finally the dolls get down to business, making their trash couture. Alaska says she feels pressure to do well since she fucked up the mini challenge. Jade whispers to some others that she thinks Alaska is "just a bad Sharon." Penny says Alaska is a one-trick pony because she's making a dress out of plastic, and the dress she arrived in had plastic elements to it. Whutevar, you twunts. You're all so ready to dismiss Alaska because you feel threatened. Pay more attention to your own hot messes.
Ru enters for her workroom visit. Serena is spending a lot of her time sketching. Bitch, Project Runway this isn't. Ru is concerned for her because she has so little done. Ru is also concerned about Coco's very busy look and brings up Coco's history with Alyssa. We learn about Roxxxy's weight loss. Ru seems to question Alaska's choice in using plastic to make an evening gown but encourages her to keep working.
Alyssa and Coco snipe at each other a bit. How long is the tension going to build before we get some good action and exposition? Serena says she's not nervous, and she's not sure if that's a bad thing. Monica tells her, "I always go by 'if you're not nervous then something's wrong.'" It sounds bitchy, but as we soon find out, completely accurate. The queens bombard Alaska with questions about her and Sharon. Is she jealous? Do they fight? On and on. I get it — this is something new for this show: a competitor dating a former winner, but shut up about it already. Especially Dick Voice, Alyssa. Shut it! Hopefully they got it all out of their systems in the premiere. (Right.) Serena pulls a Tyra Sanchez and starts scream-singing out of tune. Annoying. The other girls gripe, and Serena gets nasty. I don't like this little twunt anymore.
Main Stage
The judges are: RuPaul, Michelle Visage, Santino Rice, Mike Ruiz and Camille Grammer.
Roxxxy Andrews: Eh. It's well constructed, but I don't like the open sides, and the embellishments are just too much. If it had just been the one on the shoulder, it would have worked better I think.
Jinkx Monsoon: She looks great in her turquoise/aquamarine gown. The giant poof on her ass is questionable, but overall it's a well put together look.
Detox: Roxxxy should take notes — this is how you do cutouts/openings in your gown. She looks good.
Ivy Winters: She's stunning in her hand sewn red gown.
Honey Mahogany: The look is a bit busy, and you definitely get the sense it was put together with scraps.
Jade Jolie: The red sequined fabric is lovely, but she plastered two NBC peacocks to her chest and put other large, strange accessories on her body and head. Get it together, Jade. This is not gonna fly.
Alyssa Edwards: From the waist up: yes. From the waist down: no.
Penny Tration: Mae West realness, but her padding is lopsided.
Coco Montrese: It's complete sensory overload, and it shouldn't work at all, but somehow she sells it.
Vivienne Pinay: There's no denying that she's a very pretty queen, but I find the whole look forgettable.
Alaska: She nailed it. All them bitches should just shut up now about her using plastic because she did more with plastic than most of them did with actual fabric.
Lineysha Sparx: Flawless! The hair, the makeup, the gown…all amazing.
Monica Beverly Hillz: Okay, so it's not exactly red carpet couture, but she has legs for days and put together a a solid look. I think this betch might really be a contender — I definitely underestimated her based on her intro video.
Serena Chacha: I don't whut. Her hips look ten times too wide for her frame, and I don't understand the John Lennon sunglasses, and her makeup is turrible, and and and. Just no.
Roxxxy Andrews wins the challenge. This is bullshit — Lineysha should have won.
Lip Sync For Your Life
Penny Tration and Serena Chacha are the bottom two and must lip sync Miley Cyrus's "Party in the U.S.A." to stay in the competition.
Heading into the Lip Sync, I assume Penny will have the advantage. She's a seasoned queen, and Serena is a noob, but it quickly becomes clear that Penny didn't take the time to learn the lyrics to the song. Besides that, she just doesn't seem to get all that into it, and Serena really outperforms her.
Shantay, Serena Chacha stays.
Penny Tration sashays away.
C.U.N.T. and C U Next Tuesday
Charisma goes to Detox this week. I just really like this betch. It's funny how her personality didn't really come through for me in her intro video.
Uniqueness and Nerve go to Alaska this week. She rocked the plastic wrap couture, and no one else really approached the challenge the way she did. Honestly I think it takes a lot of nerve for her to be on this show in Sharon's shadow. It's annoying the way the other dolls are focusing on that aspect alone though.
Talent goes to Ivy Winters, who hand stitched her gown. She has some skills to be reckoned with.
Serena ChaCha is this week's C U Next Tuesday. This show has seen some young queens, but Serena is so immature and annoying and — based on her red carpet couture look this week — of questionable talent.
The Drag Race Index
I know this first recap is long as fuck, but just stay with me for one more minute! I'm doing something new this year. As you may remember, I gave the queens snap judgment scores based solely on their 'Meet the Queens' intro videos. Using those scores as a jumping off point, I'm going to rank the dolls every week as we get closer and closer to crowning America's Next Drag Superstar. My rankings will be based on how Ru and the judges think the queens did and my own judgment. So you'll notice this week I have Lineysha at the head of the pack despite her not actually winning anything. Why? Well, she rocked it in the mini challenge, and I think her main stage look actually deserved the win.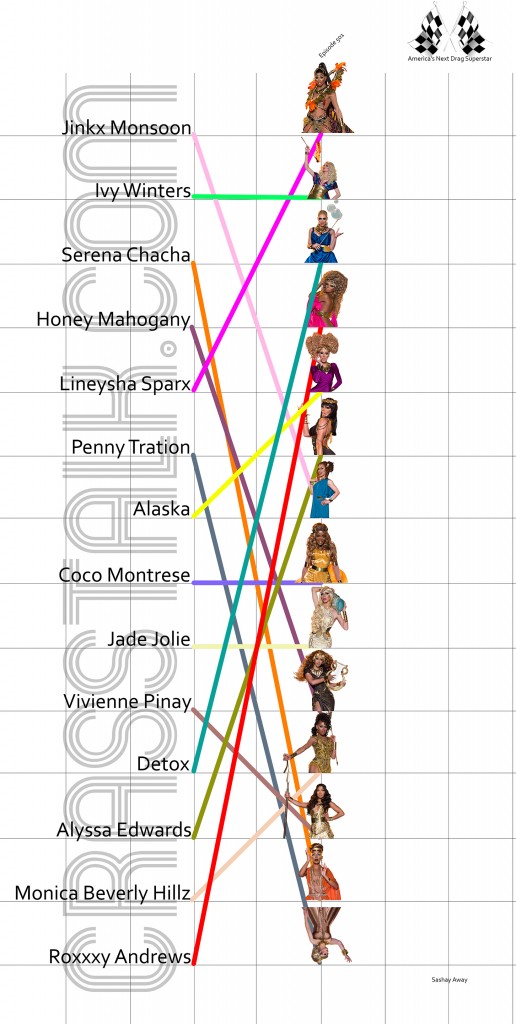 Open in a new tab if you want to see it larger! This being the first episode, it's a little difficult to rank the dolls accurately. Some queens changed ranks significantly from their snap judgment ranks, but others moved sideways. I'll need to see the queens do a main challenge or two that involves actual performing of some kind to get a better feel for how talented they really are. What are your thoughts? How would you rank the top 13? Sound off in the comments, and I'll see you betches next week!