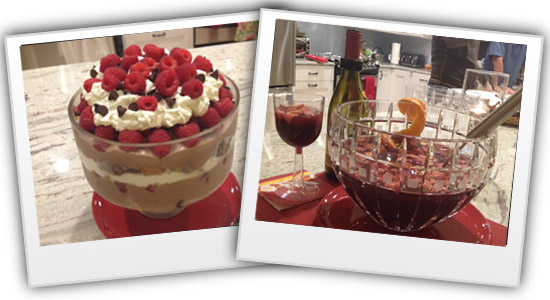 Now that we are approaching the end of the year, it is time for ALL the parties! While I have no issues with slaving away in front of the oven cooking and baking all day, sometimes I just want to whip something up and be done with it. In the spirit of quick and dirty party planning, today I want to share recipes for sangria and a marble chocolate trifle that won't take long to make.
Sangria
Ingredients
2 bottles cheap red wine
2 liters ginger ale, chilled
2 cups orange juice
4 ounces Grand Marnier, brandy or dark rum
2 apples, diced
2 oranges, diced
seedless grapes
1/2 pint strawberries (sliced) or raspberries (whole)
1 cup granulated sugar
Preparation
Place fruit in a large bowl and sprinkle with 1/2 cup sugar. Place in refrigerator and chill for 1 hour. Combine wine, ginger ale, orange juice, and Grand Marnier in a large punch bowl. Add the rest of the sugar, and stir until it is dissolved. Before serving, add the sugared fruit. Serve with ice.
Chocolate Marble Trifle
Courtesy of Woman's Day. Warning: nothing in this dessert is from scratch. Feel free to bake your own cake and make your own pudding.
Ingredients
1/3 cup dark rum
1/3 cup brewed black coffee
2 tubs (22 oz. each) refrigerated chocolate pudding
1 cup sour cream
2 cups heavy whipping cream
3 tbsp powdered sugar
1 chocolate-marble or pound cake, cut into 1x1x1 squares
3 baskets (1/2 pint each) red raspberries
2/3 cup mini chocolate chips, plus more for garnish (you can use full-size morsels as well)
Preparation
Reserve 1 basket of raspberries for garnish. Mix rum and coffee in a measuring cup. Set aside. Combine pudding and sour cream in a medium bowl. In a large bowl, beat heavy cream and powdered sugar with a mixer on high speed until stiff peaks form. Arrange half the cake squares in bottom of a 3 quart trifle bowl or clear glass serving bowl. Drizzle with half the rum mixture. Spread half the pudding mixture. Sprinkle with 1/3 cup of chocolate chips, then 1 basket of raspberries. Spread 1/3 the whipped cream. Repeat the layers. Cover bowl with plastic wrap. Refrigerate at least 8 hours. Before serving, garnish with remaining whipped cream, raspberries, and chocolate chips.