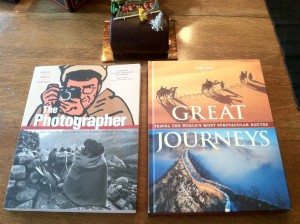 Despite being an infidel non-believer, I celebrate Christmas. To me, it means spending time with family, days off, food, a tree, and a little gift giving. So to you fellow atheists, agnostics, Jews, Muslims, Buddhists, and Zoroastrians, I don't mean to offend with this post.
Now, let's get down to business. What did you get? Tell us.  And a fonz from me if you post a picture of your gift.
For the record, I got two books. One is called The Photographer: Into War-Torn Afghanistan with Doctors Without Borders. It's about a French photojournalist who joined MSF in a three-month journey in 1986 Afghanistan. This was during the height of the Soviet war. The book is a combination of a photo essay mixed with a graphic novel. It is compelling, frightening, and exciting.
The second book is Lonely Planet Great Journeys. It contains beautiful photographs of all the legendary trips– Route 66, Che Guevara's South America, Paul Theroux's Pacific islands, and dozens more. Plus, for each trip, the book has suggestions for books and movies in which the trip is the central theme.
Friendly reminder: If you wish to purchase books or socks through Amazon, help Crasstalk by clicking on the Amazon link in the right column. A part of the purchase price will go to Crasstalk. Thank you.
Image source: Maxichamp