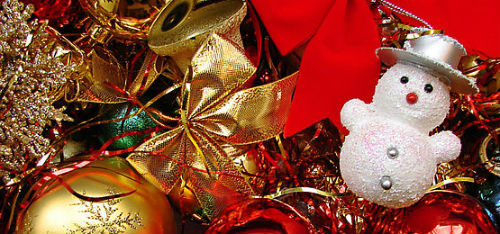 Getting tired of hearing Alvin and the Chipmunks, The Oak Ridge Boys, Bing Crosby and Andy Williams? Need to spice up your Christmas playlists? Here are five selections guaranteed to wake everyone out of a Christmas cookie induced coma when they pop up on your iPod.
Merry Christmas Wherever You Are
The version I have is performed by Judy Collins and it is really, really dark. Unfortunately, it's not on youtube. The version in this video is performed by Tanya Tucker and she warms it up considerably.
Christmas at Kmart
I found this song on a New Wave sampler of Christmas music. Root Boy Slim and the Sex Change Band recorded this in the late 70's, and it garnered them a recording contract with Warner Brothers Records. You might know their more famous song, Boogie Til You Puke.
Blue Christmas
If you listen to Elvis' rendition of this song, he seems almost amused at his situation. He's not down, he's not lonely, he's Elvis, for fuck's sake. You're not here with him, but he'll find someone else in the snap of a finger. Fast forward a few decades, and Sheryl Crow decides to take this song on. I wonder if she came up with this arrangement when she was with Lance Armstrong. He seems like someone who would inspire this level of despair.
All I Want For Christmas
RuPaul gets a firm grip on this song, speeds it up, and takes it in a decidedly vain direction.
Arbolito de Navidad
Gloria Estefan released a Christmas CD in the early 90's, and this hidden gem is the only Spanish-language track.