A very unusual building came to my attention a few days ago.  Shaped like the Greek symbol Ohm, the proposed 140 meter Bandra Ohm residential tower (named the Parinee Ism by the architects), currently under construction in Mumbai, India, is designed to evoke the ripple effect generated by water droplets, also known as capillary waves. According to designers James Law Cybertecture, the outline of the tower demonstrates the fluidity and dynamic nature of the ripple.  The design features a central void containing an orb-shaped clubhouse. Even more striking, however, are the glass-walled swimming pools on the balconies.
Each unit features a narrow vertigo-inducing infinity pool with no railing. The gorgeous design seems less inviting when you imagine how easy it would be to trip on the balcony and fall completely across the narrowest part of the pool and over the glass edge and down the 30 stories or so. Also, questions arise as to how long these glass walls can hold up to weather, earthquakes, or terrorist attacks.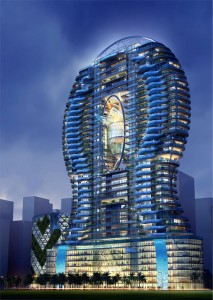 From our vantage point of rectangular cement and glass buildings in America, it is easy to write off such whimsical, creative design as impossibly futuristic science fiction. However, there is precedent for such daring design being completed in other parts of the world with less-stringent zoning codes. View, for example, the Marina Bay Sands Resort in Singapore, completed in 2010:
Such futuristic designs both boggle the imagination and challenge our understanding of materials strength.  Are we seeing in the plans of the Bandra Ohm the design trends of the future? Can this building be constructed as designed, and more importantly, should it?
Images from James Law Cibertecture and Wikipedia.