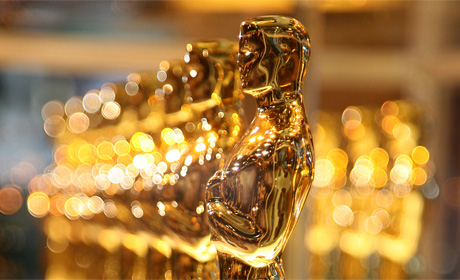 The last two years have seen Colin Firth and Jeff Bridges win Best Actor while Best Actress has been won by Natalie Portman and Sandra Bullock. Sure, Natalie's performance was good but was it really better than Annette Benning? Was Bullock better than Helen Mirren in The Last Station? Probably not. Save Bullock, all four of the aforementioned awards were fairly locked up before the ceremony. This year is shaping up to be a little more of a contest.
BEST ACTOR.
Odds
Jean Dujardin            (4:6)
George Clooney        (6:5)
Brad Pitt                      (35:1)
Gary Oldman             (50:1)
Demian Bechir          (125:1)
According to the odds and general press, the Best Actor race is coming down to either Dujardin or Clooney. However, Dujardin has been pulling ahead in the race. The dancing on SNL probably got a lot of random people at least semi-interested or very annoyed with The Artist but that doesn't really mean anything. The demographic that votes probably doesn't see much of a difference between Dujardin and Clooney save the fact that Dujardin was in a movie that paid homage to old hollywood. However, we all know that they like Clooney and have given him one award already. It's pretty much a even race between the two with a slight advantage to Dujardin. If there is an upset, look for it to come from Gary Oldman and not Brad Pitt.
BEST ACTRESS
Odds
Viola Davis                 (8:13)
Meryl Streep             (11:8)
Michelle Williams   (33:1)
Glenn Close               (100:1)
Rooney Mara            (125:1)
People have been saying Davis or Streep for months. Davis has a slight advantage in the precursor awards this season with Streep winning her fair share. The Help is definitely the heavy hitter at the box office and in the lead up awards in this grouping which gives a slight advantage to Davis just like it did for Bullock. However, The Blind Side was the highest grossing movie headlined by a woman and The Help is not. Davis is overdue for her first win but then again so is Glenn Close. Meryl Streep is definitely overdue for her third win but this year will likely not be the year. Plus, she is a huge fan for Davis and it wouldn't be surprising if she is lobbying for her behind the scenes.
Michelle Williams has been losing a lot of steam lately but could still be seen as a sentimental favorite. Rooney Mara doesn't seem to have a chance. Look for Glenn Close is going to pull an upset in this category.